What's the plural of SP?
Double Yeah!
Got two packages today and both are awesome!
First, the final package from my blogger SP, who is just like I guessed before the wonderful and very productive knitter
bente
!
I'm stalking her blog since I don't know when. Your fabulous girl!
My last package includes:
-2 hanks of "tagliatelli" from Colinette in colorway moss! A perfect autumn color!
-a little pink(!) notebook with pearls and sequins
-4 spools of metallic thread; guess I now have a reason to learn to embroider ;-)
-some roving in pink/purple
-a wonderfull sewn bag with wooden handles and a patchwork star motive!!!
Plus it has a safety pin attached with words on it(my name, knit, purl etc)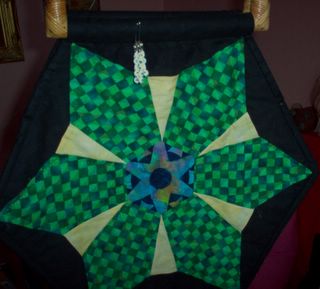 AND lastly a lace shawl!!!!
How cool is it that my SP knitted me a lace shawl?!!!!
This package is just mind-blowing and breathtaking!
Bente, you've been a fabulous SP and I'm overwhelmed to the point where I can't put in words just how great this package is!
Thanks!!!!!!
Second, I got the first package from my super secret Knitty SP. Guess she(?) has read that I'm such a curious creature and therefore there's no return address at all on it.
Beeing overwhelmed from the other package, I thought that nothing could make me even more excited...
...but two skeins of hipknits silk yarn can!!!
Man, it's soooooooooooooooooo soft and shiny.
Thanks to you too!

Picture tomorrow, cause I can't take adequate pictures without sunlight.
Edit: Now with pics, but even sunlight doesn't help with this camera ;-)